Tips for PCB Design
To avoid listing pcb parameters but still specify them for RFQs, POs, etc., we are introducing standard types.  The basic standard type is the most commonly ordered pcb type:  2 layer, min 1 oz copper,  pth, 1.6 mm thick, FR4, solder mask green x2, silk screen white x1, Enig finish, min trace and gap 5 mil, IPC Class 2,..
You are welcome to specify Std, Std_4L, or  Std_6L_0.8mm etc.  and  list only  non-standard parameters.  Example: Std with 2.4 mm FR4 Tg135 and silk screen 2 sides, solder mask blue.

Otherwise necessary information to quote:
Copper thickness                  Inner and outer layers
Total thickness                    and required tolerance
ML-build                              minimum isolation between layers
Materials                              types, thicknesses 
Drill dimension table           Number of holes and dimensions – in gerbers
Complete drawing                Gerber outline and tolerances. 
solder surface finish            Solder surface
Type of solder mask              Color, 1 or 2 side
Type of legend print              Color, 1 or 2 side
Net list                                   IPC 356 are preferred
 Check list for Designer
Plated/unplated hole in different files, drill files or gerber files
Name and mark layers  in order 1 to…max layer. Add text on outer layers to avoid mirroring!
Add opening in solder mask for unplated holes
Are vias not open in solder mask to be filled with solder mask only or also via fill ?
Unused  traces  removed from design else advise about guard traces
Is  clearance around plated and unplated holes in  inner layers  correct?
 Factors  affecting costs
Number of boards                                Factor is total batch area 
Delivery time                                        Standard  15 works days, less for 1-5 smaller boards
Board Size                                            Complex larger pcbs higher unit area price than smaller
Materials                                              FR4 Tg130  is lowest cost for pth
Class  II or III                                        Increased cost  tracks and gaps less than 0,15mm (6 mil)
Number of layers                                 Increased cost 
Thickness                                             Drill stack lower, laminate and freight costs up
Number of holes                                 The more the higher 
Hole less than 0,5mm                         Increased cost 
Number of test point                          Increases cost  
Type of surface finishes                    Tin/copper, Ni/Au, OSP, Silver………
Blind or buried via layers                  Increased cost 
Micro-via layers                                  May increase or decrease total cost
Carbon print,  peelable  mask           Increased cost
Edge plating                                        Increased cost
Optimized use of material
Another very important factor to consider in terms of economy and environment is how we use the surface of the panel for individual pcb layout.
This can have a significant effect on  the price. The more cards we can get out of each panel, the better economies and it is also very important for the environment to have as little waste as possible.
In this example below  the number of cards from same production panel  varies  from 12 to  45 pieces!
Panels routed and scored with panel bars typically 7-12 mm wide on two sides usually provide good yield with no assembly problems.
Ask us, we suggest panel layouts to customers every day !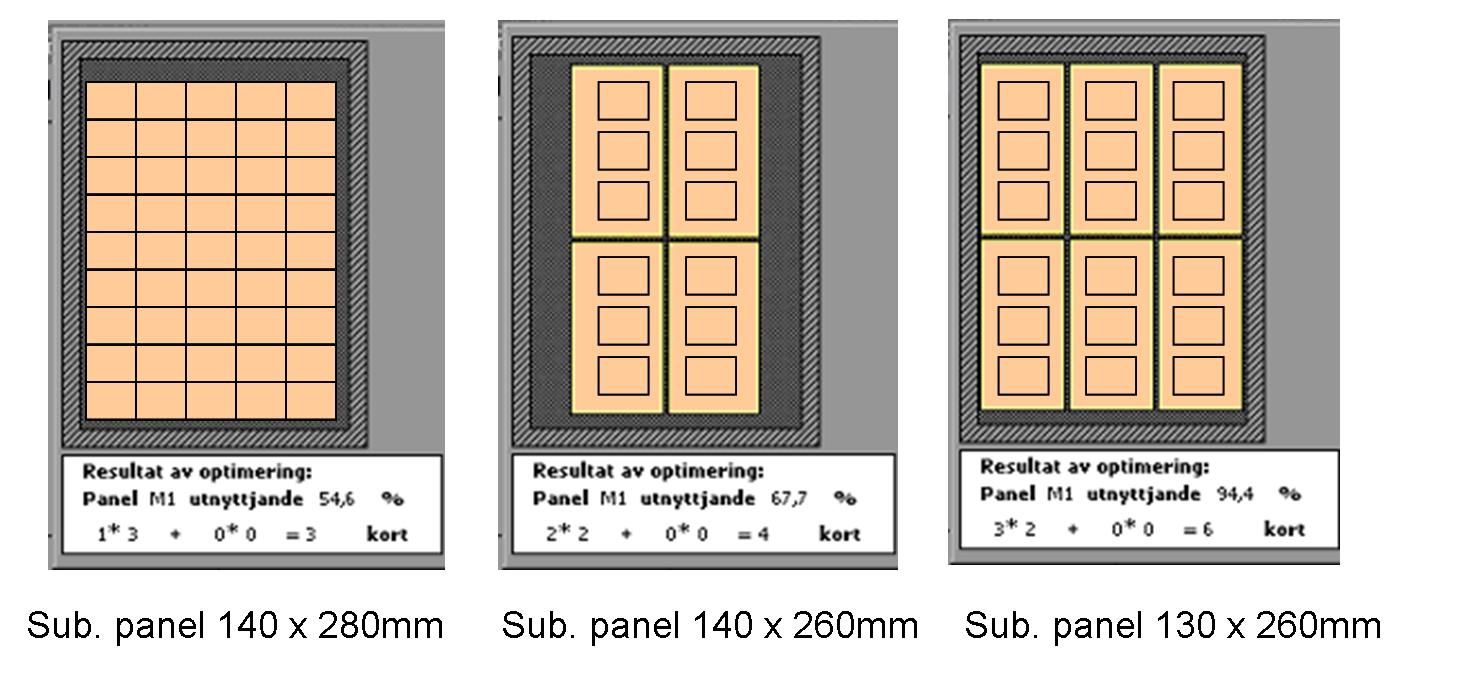 Abbreviations
AOI                 Automatic Optic Inspection
BGA                Ball Grid Array
BT                   Bismaleimide Trazine (BT-Epoxy)
CAD                Computer Aided Design
CAF                Conductive Anodic Filament
CAM               Computer Aided Manufacturing
CSP                Chip Scale Packing
CTE                Coefficient of Thermal Expansion
Df                   Dissipation factor
Dk                  Dielectric constant
DRC               Design Rule Check
ENIG              Electroless Nickel Immersion Gold
ENIPIG           Electroless Nickel Palladium Immersion Gold
FR 4               Flame Resistant 4
HASL             Hot Air Solder Leveling
HASL Pb Free  Hot Air Solder Leveling Lead Free
HDI                  High Density Interconnect
I/O                   Input/Output
IPC                  International Printed Circuit  Association Connecting Electronics Industries (PCB/PCBA standards)
IR                    Infra Red
NPTH              Non Plated Through Hole
MCM              Multi Chip Module
OSP                Organic Solderbility Preservaties
PCB                Printed Circuit Board
PWB               Printed Wiring Board
PTH                Plated Through Hole
PTFE              Polytetrafluorethylene (Teflon)
QFP                Quad Flat Pack
RCC                Resin Coated Copper
RoHS              Restriction of Hazardous Substances
SMOBC          Solder Mask Over Bare Copper
SMD               Surface Mount Device
SMT                Surface Mount Technology
Tg                   Glass transition temperature –  when epoxy softens
UL                   Underwriter´s Laboratories
UV                   Ultra Violet